DIY Idea to Create Your Own Sun Shade Sails
3 min read
Sun shade sails are device that came into existence due to the climatic and environmental changes that the world is going through. A sunshade is nothing but a basic technology to save people from the harmful rays of sun that can lead to skin cancer and other dangerous UV-led diseases. It is of flexible membrane tension used between the anchor points. Sun shades are generally used to cover playgrounds, seating areas open to the sky and other places where people gather.
Antiquity of Sun Shades 
Ancient Egyptians were the first ones to discover these sun shades and were later passed on to the Romans and Greeks. They all used large fabrics to cover the area(s). Romans also used large fabrics to shade the roofs of the Colosseum. 
As time passed, these old fabrics were replaced by an inexpensive fabric called shade cloths. It was in the late 1990s that Australia and South Africa made this sun shades take a better and modern look to the fabrics and make of sun shades. 
Now, these shade sails are used in various ways, mainly for business gathering and outdoor areas. Coming in different colors, shapes, and styles to cover the areas. Now the fabric opted to make these sun shades are specifically designed to fight the UV rays of the sun protecting our skins. 
DIY ideas to make exterior Sun Shades
Nowadays, having long and green backyards are common and to cover the backyard with a sun shade is a must. So, instead of buying those expensive sun shades, there is a better way by creating our own DIY ideas to cover the area with some good sun shades.
The most common and affordable fabric used to make sun shades is patio umbrella in home gardens and courtyards. Though these will not provide a permanent solution to our problems but will surely cover the area and the fabric is good enough to protect from the dangerous UV rays. 
The best part of these shade sails will provide the entertainment element and is low maintenance which can be cleaned at any time of the end of the season. 
1. A traditional canopy
A sun shade sail in a shape of canopy is more likely to be a permanent fixture and if fixed properly will give a marvelous look to the area. Such kind of sun shade is made out of a metal frame attached either to the windows or any other strong and large area of the house. Such kind of sun shade is a perfect choice who wants to give an indoor look to the backyard along with protection from dangerous UV sunrays.
2. An outdoor Sun Sail 
An outdoor sun sail doesn't give only a good option for a sun shade but is a good architectural addition to the garden or yard. There are many professional versions of this type of sun shade, but it is easy to make one by yourself. The shade sails look more likely a sail of the ship threaded horizontally with enough artistic directions both overhead and sideways not only to protect from the sunrays but to provide adequate sunlight to the plants in the garden or yard.
3. Roll-up sun shades
These are one of the most convenient roll-ups outdoor sun shades which can be rolled out at the day time when required and rolled-up when there is no need for shade. They look similar to the traditional canopy except for an extra feature of rolling in and out. This can be made both manually and motorized way.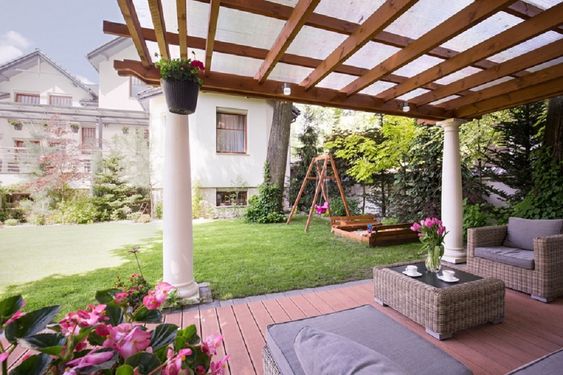 Conclusion
These are the most convenient and preferable DIY ideas to create your own shade sails without shelling out a good part of your investments.